31-W Insulation Installs Frameless Shower Doors and Other Options in Raleigh, NC, Homes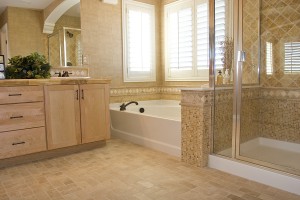 There's no denying that shower doors are usually one of the first things you see when you walk into a bathroom. If the shower enclosure in your Raleigh, North Carolina, bathroom is stained, outdated, damaged, or simply unattractive, you need the assistance of 31-W Insulation. Since 1972, we've helped homeowners throughout the Southeast by replacing ugly shower doors that detract from their bathrooms' appearance with new doors that provide a refreshing, nearly instantaneous update.
Seamless shower doors are a popular option among our Raleigh customers. That's because they feature minimal framing that allows beautiful fixtures and attractive tile or stonework to take center stage. Each shower door is available with:
Hinged, sliding, or fixed panel doors
Glass width between 1/2" and 3/8"
Etched glass designs
And more
But these aren't the only shower door products we have available. We also offer semi-frameless and framed shower enclosures for a beautiful design at more affordable prices. Semi-frameless shower door products incorporate low-profile framing around glass panels, while sturdy framed enclosures offer strength and durability with thicker mounts.
And, of course, when 31-W professionals install your shower door products, you can rest assured that the project will be carried out to your exact specifications for a leak-proof installation and perfect fit that will offer years of dependable performance.
For more information about any of the shower doors we offer to homeowners in Raleigh, NC, or any other community in the Research Triangle, contact 31-W Insulation today.