Blown insulation is a popular choice for retrofitting homes to be more energy efficient.
Blown insulation, more commonly known as blow-in insulation, is a viable alternative for improving the energy efficiency of your home when adding batts isn't a feasible retrofit option for various reasons. One such situation is to fill wall cavities, as it would be impractical to remove wall surfaces or exterior siding to put in batts. At 31-W Insulation, we take the time to assess your home, so we can recommend the best type of insulation for your situation and primary objectives. Whether it turns out that blown insulation or one of the many other types we work with is the best option, you can be confident you will make your decision with all the pertinent information in hand.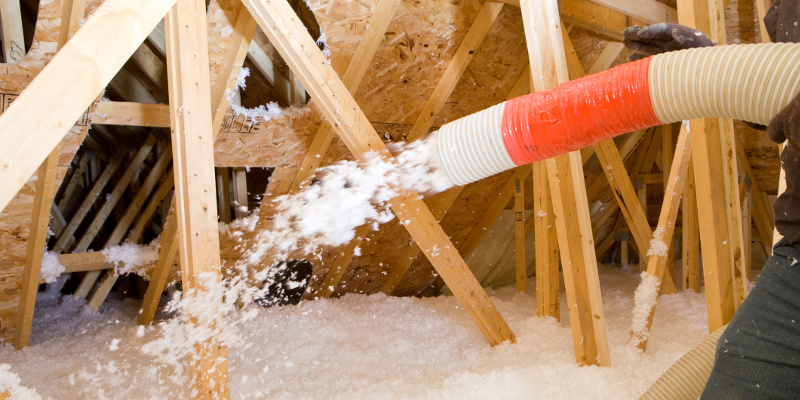 Since our inception in 1972, we have grown to have more than 600 employees working at 48 locations in 12 states. We are now the second largest insulation company in the Southeast and have become self-sufficient in almost every aspect of our operations, including having our own truck fleet to distribute products from the manufacturers to all our locations in a cost-efficient and timely manner. We deal directly with the public to install blown insulation, and we also serve contractors needing building materials for residential and commercial projects. We are always happy to discuss your insulation needs, as well as home remodeling projects, to see how we can help them be a complete success.
Key Advantages to Blown Insulation
Since our inception in 1972, here at 31-W Insulation, we have witnessed many innovations in home insulation products and techniques. We stay on top of the industry to provide you with the best option for your needs. Blown insulation, also called blown-in or blow-in insulation, comes in two types – fiberglass and cellulose, each with its advantages.
Cellulose Blown Insulation – This type of blown insulation provides roughly R3.5 for each inch of product installed. It is manufactured using primarily recycled newspaper. Quite a few newspapers are needed to insulate a modestly sized home – an equivalent of what you might read over a lifetime! It might seem like using paper isn't a wise idea because of its flammability, but it is treated chemically to make it resistant to pests and fire. It offers exceptional air-blocking efficiency with a lifespan of 20 to 30 years.
Fiberglass Blown Insulation – This product is often chosen as the lower-cost option of the two when a small area is involved that has been sealed properly. The R-Value of this type of blown insulation is R2 per inch and has a longer lifespan of 30 to 50 years.
Both products offer a variety of advantages, including being able to reach areas where batt insulation would be impractical, such as interior walls and difficult to access attics or those with several obstructions to work around. We are always happy to discuss blown insulation and answer all your questions, so you can make an informed decision about what type of insulation fits your needs, budget, and expectations the best.
If you have any questions about blown insulation or you would like to schedule a complimentary consultation to learn more, don't hesitate to contact us.
---
31w also offer blown insulation in many states throughout the Southeastern portion of the U.S. Read more about our services in Alabama, Florida, Georgia, Indiana, Kentucky, Missouri, Ohio, Oklahoma, North Carolina, South Carolina, Tennessee & Texas.