Day Enterprises is a race car factory and working race team under one roof. Day Enterprises houses a race car fabricating facility building chassis's, a painting facility, engine dyno, and a chassis dyno for Day Enterprise to be able to compete in races around different parts of the country.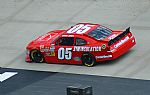 Day Enterprise chassis's are some of the most safety reliable, well handling, and quality built racing chassis's used today.  Day Enterprise also has its own in house engine program (from a engine dyno to tool & die machinery shop) as well as a car chassis dyno to get the best information before going to a race.
Day Enterprise is owned by Wayne and Jean Day.  Wayne and Jean have been in some part of racing for over 30 years.  Wayne has owned cars that have participated in Late Model Stock, All-American Challenge, All-Pro Series, and currently competing in the Busch Grand national Division and Late Model Stock division at Nashville, TN.  For years 31-W Insulation have been sponsors for Day Enterprise Inc.
Day Enterprise has had several top name drivers such as Butch Miller, David Green, Jeff Green, David Starr, Willie Allen, and David Ragan.  Day Enterprise has built chassis's for top Busch teams like Bobby Labonte, Mike Alexander and Kenny Wallace.