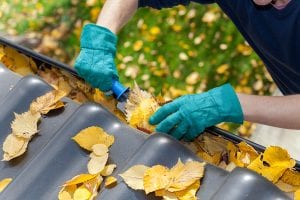 If the gutters on your Lexington, Kentucky, home are drooping, cracked, clogged, or otherwise unsightly, it may be time to call the home improvement experts at 31-W Insulation. For more than 40 years, we've provided reliable gutter installation services to homeowners across many different states. But unlike other gutter contractors, we provide a full range of home improvement services. Our craftsmen are known industry-wide for their lofty workmanship standards and their keen attention to detail, and when you partner with us to have new gutters installed on your home, you can enjoy the peace of mind that comes from working with true professionals.
It's A Dirty Job, but Somebody Has to Do It
Your gutters are the unsung heroes of your roofing system. While it's the fancy slate shingles or the gleaming copper roof that usually gets all the attention, it's your gutters that do the critical work of channeling rainwater and other precipitation runoff safely away from your home's foundation. This is an essential job, as it prevents damage to your foundation, but it's also a dirty job. Your gutters get clogged up with leaves and twigs and nuts and then they get backed up and, well… you get the picture…
But the good news is, the team at 31-W can outfit your home with a beautiful new high-performing gutter system that is a total game-changer. No longer will you have to pull out the ladder and the garden hose every month and scoop out handful after handful of soggy twigs and leaves. These gutter systems, made by Spectra Metals, are available with innovative gutter cover products that will prevent them from clogging up with leaves and other debris. And, with a number of colors to choose from, you can select new gutters that perfectly complement your style and decorative motifs. Available colors include:
Red
Pearl gray
Forest green
White
Wicker
And more!
If you would like to partner with 31-W for a gutter replacement at your Lexington-area home, contact us today, and see for yourself why we stand head and shoulders above other gutter contractors.