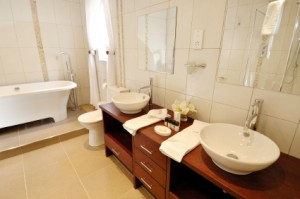 The right bathroom fixtures are crucial for putting forth the aesthetic appearance that you want your guests to see in your home in the Huntsville area of Alabama. Whether you prefer the old-world style of rubbed bronze and curved, antique-looking accessories or the sleek, modern look of simple angles and silvery finishes, the fixtures in your bath space should be as visually attractive as they are functional. The visual appeal of your bathroom is just as important as that of the rest of your home, and accomplishing the right look without having to perform an entire remodel is as easy as adding the right accessories.
Some of the types of bathroom fixtures that can add utility and visual appeal to your Huntsville, AL, home's bathrooms include:
Towel rings and bars
Tub and shower grab bars
Shower rods
Faucets for the sink, tub, or shower
Robe hooks
Paper holders
If you're interested in updating the look of your bathroom with fixtures like these, turn to 31-W Insulation. The wide selection of accessories we offer and install for homeowners throughout Huntsville, Alabama, comes from such well-known manufacturers as Better Home Products and Moen. Also, because we never subcontract on any project, you can trust that our installers are committed to upholding our high standards of workmanship and total customer satisfaction.
For more information on how we can help you transform the bath spaces in your Huntsville, AL, home with attractive new bathroom fixtures, contact 31-W Insulation today.