Spray foam insulation is a great insulation choice due to some unique features.
Many homes are under-insulated. In fact, sometimes as much as 40% of the warm air that we force throughout our homes is lost right through the walls due to poor or inadequate insulation. That is a lot of air (and expense) floating away every year! Here at 31-W Insulation, we want to help you find the best insulation for your needs, and for many people, that is spray foam insulation.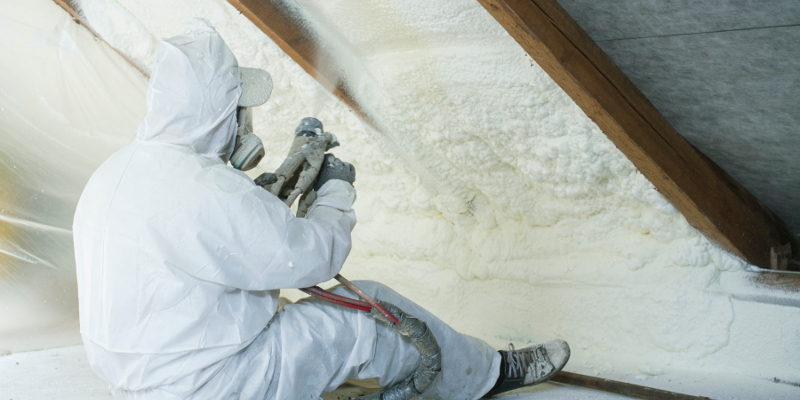 Spray foam insulation is unlike many other forms of insulation. Because spray foam insulation is applied directly to the interior of your walls, it can be added to previously built structures without tearing out the plaster or drywall. Additionally, spray foam insulation works well in attics, basements, and nearly every other area of your home where you need more insulation.
What Makes Spray Foam Insulation Environmentally Friendly?
One of the questions we often get asked here at 31-W Insulation is whether spray foam insulation is environmentally friendly and thus a good choice for your Garner, North Carolina home. The answer to this question is that there is one factor that makes it better for the environment than you might think – how much is needed. Since spray foam is one of the most efficient materials on the market today, you can achieve a higher R-value with far less product.
Closed cell spray foam insulation requires only one inch for up to a 6.9 R-value, and since it expands to up to 40 times its initial volume, there isn't much material actually being used to create the moisture, vapor, and air barrier that will make your home more energy efficient. Another advantage is that closed cell foam insulation strengthens the structure by as much as 300%.
Of course, any insulation you add to your home that makes it more energy efficient makes your home itself more environmentally friendly. When your demand for energy is reduced, the environment wins right along with your utility budget!
We are happy to discuss the various options we offer for home insulation so that you can make an informed decision about whether spray foam insulation is the best course of action for your situation. We offer quality products from Johns Manville, Demilec USA, and Icynene. Feel free to let us know if environmentally friendly solutions are a main objective in your decision, and we'll do our best to recommend the optimal option.
Unlike other forms of insulation, spray foam insulation is able to resist mold and mildew because it is water impermeable. This means that if your area were to experience water damage or flooding, you might have to replace some drywall, but your spray foam insulation would remain intact and free of mold concerns. This makes it an ideal insulation material for areas with heavy rainfall or high humidity, including areas like Garner, North Carolina.
Here at 31-W Insulation, we have the experience necessary to provide you with the spray foam insulation installation services you need. With almost three decades of experience working in the insulation industry in this area, we can provide you with quality insulation materials as well as installation services. For questions about spray foam insulation, please contact us here at 31-W Insulation today.
---
Right here in North Carolina, we also offer spray foam insulation in Concord, Greensboro & Conover. 31w is also proud to serve many states throughout the Southeastern portion of the U.S. Read more about our services in Alabama, Florida, Georgia, Indiana, Kentucky, Missouri, Ohio, Oklahoma, South Carolina, Tennessee & Texas.
Similar Services We Offer: