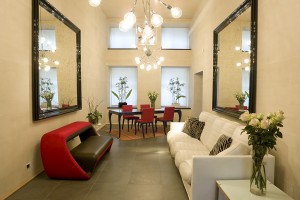 If you're looking for custom mirrors in Bowling Green, or any other nearby city in Kentucky, turn to the home improvement specialists at 31-W Insulation. Whether you are trying to add a little light to a dark room, or you need a mirror cut to exact dimensions for your bathroom, we offer custom mirror products that deliver the uncompromising beauty you are seeking that will make any room appear more spacious.
Our mirrors are crafted by Gardner Glass Products, a company with more than 50 years of experience in manufacturing high quality mirrors. Here are some of the benefits you'll enjoy when you purchase one of these beautiful custom mirrors from 31-W:
Customization – You won't have to settle for an off-the-rack mirror, because our products are available in a variety of shapes, in dimensions up to 96- by 144-inches. Additional options include beveled edges, warm wood framing, and antique finishes.
Truer reflections – Crafted using high quality materials, our brilliant mirrors offer virtually distortion-free reflections that feature brighter whites, more vibrant colors, sharper focus, and more natural skin tones.
Expert installation – With years of experience, 31-W professionals can install any custom mirror precisely and to your exact specifications.
Additionally, our large custom mirrors are manufactured with as few seams as possible and our smaller mirrors are seamless altogether, so you can enjoy truly enjoy their distraction-free beauty.
For more information about the custom mirrors we offer to homeowners in Bowling Green, KY, contact 31-W Insulation today. We will be happy to schedule a time for a professional to provide you with a free, no-obligation estimate for our services.