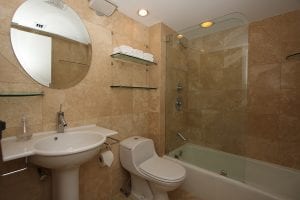 Homeowners in Conover, North Carolina, who are looking for beautiful bathroom mirrors can trust the team at 31-W Insulation for all their home improvement needs. For more than 40 years, we've proudly offered an extensive selection of bathroom mirrors, all expertly crafted right here in the United States by one of the industry's most trusted manufacturers, Gardner Glass Products. With a number of shapes, sizes, thicknesses, and finish options to choose from, you can customize your new bathroom mirror to achieve the exact look you're going for. And, when you partner with 31-W, you can trust that our highly trained technicians will provide expert installation and top-notch customer care every step of the way.
Top-of-the-Line Mirrors from a Top-Tier Company
These high-quality bathroom mirrors can make your bathroom feel more open and spacious by offering crisp, clear reflections with razor-sharp focus and beautiful vibrant colors. Or, if you prefer more of an old-fashioned look, we also have a selection of acid-etched glass mirrors. These mirrors feature a matte finish that diffuses light and produces a muted reflection that can provide wonderful visual appeal. What's more, our bathroom mirrors are also copper-free, which means they are more water resistant and less susceptible to corrosion than other mirrors, making them the perfect choice for a bathroom environment, which can often be humid.
Professionalism You Can Count On
Here at 31-W, we never use subcontractors to complete installation. Instead, we rely exclusively on our team of highly trained, company-employed technicians. This allows us to ensure a higher standard of workmanship and a more consistent level of customer care, traits for which our company has become known for. Furthermore, we back our bathroom mirrors with a full manufacturer warranty, as well as a one-year labor warranty on installation, so you can rest easy knowing your new mirror is protected.
Contact 31-W Insulation today to learn more about the wide selection of beautiful bathroom mirrors we offer to homeowners in and around Conover, North Carolina.