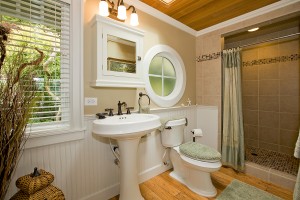 If you're looking for new bathroom fixtures to upgrade the bathrooms in your Tampa, Florida, home, turn to the experts at 31-W Insulation for top-brand products and professional installation services. Since 1972, we've been providing exceptional service in the southeastern United States. Our commitment to customer satisfaction throughout the years has earned us an A+ rating with the Better Business Bureau. So when you want a reputable company that can support your home improvement needs, 31-W Insulation is the company for you.
Having 31-W replace or add new bathroom fixtures to your home in Tampa, FL, has a number of benefits, which include:
Improved safety – We can install grab bars and other products that make your bathroom safer and easier to use.
Better functionality – Robe hooks, towel rings, paper holders, and more can keep your bathroom organized and allow you to use the space more efficiently.
Updated style options – The bathroom fixtures we offer come in a number of styles and finishes so you can create a cohesive appearance that matches your personal taste and your existing bathroom décor.
Additionally, the products we offer come from leading manufacturers, including Better Home Products and Moen, for superior durability. And once you've selected the products you want, our technicians will install them with care and precision so that your new bathroom fixtures will not only look beautiful, but will also last for years to come.
To learn more or schedule a free, in-home consultation in Tampa, FL, contact 31-W Insulation today.