Frameless Shower Doors & Other Shower Options Available from 31-W Insulation for Residents of Nicholasville, KY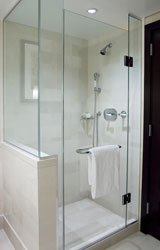 Shower doors can often be the premier focal point of any bathroom because it's often one of the largest fixtures in the room. However, if your shower is dull, outdated, or damaged, it may make your bathroom less attractive than you'd like. Luckily, the experts at 31-Insulation are able to help homeowners throughout Nicholasville, Kentucky, customize a shower enclosure that will complement their bathroom perfectly.
When it comes to bathroom redesigns, many of our Nicholasville customers choose seamless shower doors. Since these enclosures feature minimal framing, homeowners and guests alike are able to focus their attention on the brilliant glass panels and clean lines, as well as the beautiful fixtures and tilework within the shower. Furthermore, each shower door is customizable with options such as:
Glass width between 1/2" and 3/8"
Various patterned glass designs
Hinged, sliding, or fixed panel doors
And more
31-W also offers semi-frameless and framed shower doors for homeowners who are looking to cut costs on their bathroom redesign without cutting quality. Both models include the same customizable features listed above, as well as durable aluminum framing. Our semi-frameless showers incorporate thin, low-profile framing around glass panels and leave the door completely frameless, while our framed enclosures offer extra strength with thicker mounts around all panels and doors.
To learn more about any of our shower doors, as well as our other bathroom products and our installation services for residents of Nicholasville, KY, contact 31-W Insulation today.