Bathroom Fixtures for Your Goodlettsville, TN, Home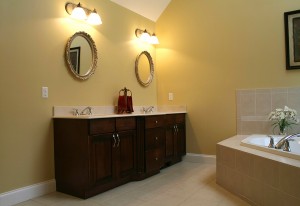 Installing bathroom fixtures, such as grab bars, towel racks, and shower rods, provides the perfect finishing touch to any Goodlettsville, Tennessee, bathroom, and 31-W Insulation is the company you need to complete the job. 31-W Insulation began right here in the Volunteer State with its first location in Goodlettsville in 1972. Many years later, 31-W Insulation has grown to become the second largest insulation company in the Southeastern United States, yet still remains under family ownership, and our customers continue to remain our first priority.
We put customers first by listening to their needs and preferences when it comes to bathroom fixtures. Do they need more storage space? Are their old fixtures outdated and faulty? With help from our professional and knowledgeable team of experts, and a voluminous collection of fixtures – crafted by leading manufacturers, such as Moen and Better Home Products – Goodlettsville, TN, residents will certainly be able to find well-made products that look great and stand the test of time.
But there are many other benefits of having 31-W Insulation install bathroom fixtures in your home, including:
Virtually no installation mess – Having us install bathroom fixtures won't create a mess in your home, saving you time and stress.
More storage space – Having towel rings or robe hooks installed allows you hang linens and make use of often overlooked wall space, freeing up your cabinets to store and organize other items.
An upgraded bathroom – Our fixtures are available in all types of attractive finishes, such as chrome and antique brass, so you can make small aesthetic changes that will make a big difference in the overall appearance of your bathroom.
31-W Insulation has also earned an A+ rating from the Better Business Bureau, so you can be confident that you're working with an upstanding company.
Contact 31-W Insulation today to learn more about installing bathroom fixtures in your Goodlettsville home, and see for yourself the exceptional customer service that has left so many Tennessee residents raving.