Attic Insulation Products and Services in Pensacola, FL, & Surrounding Areas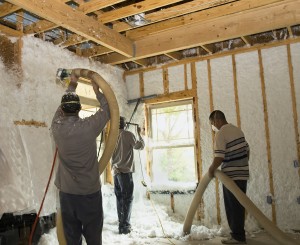 Are you wondering whether inadequate attic insulation in your Pensacola, Florida, home is the cause of sky-high energy bills? You may be on to something, because poor insulation allows conditioned air to seep out while outside air to comes in, resulting in energy loss. When you turn to the professionals at 31-W Insulation, we'll come to your home, provide you with a complimentary inspection of your attic, answer all of your questions, and offer solutions for your insulation needs.
Whether you choose to have us install affordable batts, or you invest in the most permanent insulation solution – polyurethane spray foam – you can rest assured that our technicians will install your attic insulation with an expert hand and an eye toward your complete satisfaction. Our full-time, professional installers are highly trained and experienced, with many years in the home improvement industry.
When we are finished with the attic insulation project in your Pensacola home, you may notice numerous changes for the better, including:
An HVAC unit that won't have to work as hard to keep your home at comfortable temperatures, even during the hottest Florida summer months
Reduced monthly energy bills that save you money and reduce your carbon footprint
A more comfortable home that is cooler in the summer and warmer in the winter
Additionally, choosing 31-W Insulation for all your attic insulation needs means you can be sure that the customer service we provide will be every bit as exceptional as our installation services. That's because we are committed to ensuring that all our customers are 100 percent satisfied with our performance. This commitment has helped us earn an A+ rating from the Better Business Bureau and the trust of countless customers who turn to us time and again for their home improvement needs.
For more information about attic insulation and any other home improvement project for your residence in Pensacola, FL, contact 31-W Insulation today.