Replacing the Shower Doors in the Bathrooms of Your Home in Garner, NC, Can Help With Safety and Cleanliness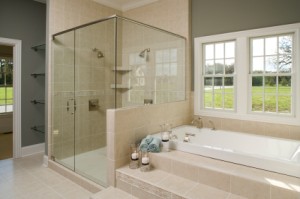 When the shower doors in the bathroom of your Garner, North Carolina, home have become old, worn down, cracked, or otherwise damaged, replacing them is important not just for eliminating an eyesore, but also for helping to prevent injury or further damage. A shower door system that has rusting or sagging hinges is just waiting to fall apart completely, possibly even shattering upon hitting the floor. Or, if your old shower enclosure has a sliding door, the door could become jammed, making it hazardous to try to open or close from the slippery surface of the shower. Also, old shower door systems can collect mold growth and mildew, which not only looks bad, but can also cause health issues from mold spores, bacteria, and more.
Looking for new shower doors that will enhance the look and safety of your bathroom in Garner, NC, may seem daunting at first, but breaking down the options can help with the process. If you're interested in a clear and elegant look, there are frameless enclosures available with high-quality glass that allows you to enjoy the beautiful tiling in your shower from outside. Or, if you'd like a more economical style that still looks sleek and aesthetically pleasing, you can choose an enclosure that has frames on each glass panel for durability. You could even choose a shower enclosure with frameless doors and framed panels surrounding them for the best of both worlds.
When you're ready to replace the shower doors in your bathroom, you needn't worry about trying to do the work yourself. Instead, call on 31-W Insulation – we've been installing shower enclosures and other bathroom remodeling products since 1972, and we proudly offer and install premium shower doors for homeowners throughout Garner, North Carolina, and beyond. Our installers are all our own employees, never subcontractors, which means they adhere to our high standards of workmanship and customer service in every project.
To learn more about the shower doors we offer for homeowners in Garner, NC, and the surrounding areas, contact 31-W Insulation today.