A Marble Fireplace Can Lend Your Home in White House, TN, A Touch of Elegance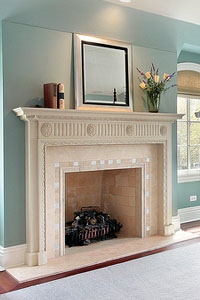 A marble fireplace offers timeless appeal. As an element of distinctive décor, it has long been associated with opulence. But at 31-W Insulation we believe that marble fireplaces are not just for the well-to-do; they are for any homeowner who appreciates beautiful interior design. If you are a White House resident seeking to heighten your home's aesthetics with a marble fireplace, consider the offerings at 31-W.
Why Choose Us?
We strive to provide our customers with the finest products available. That's why we source our marble fireplace surrounds from the world-renowned marble company ICM Marble and Granite. The classic attributes of these surrounds make them suitable for both modern and old-world interiors. Painstakingly hand-cut by true artisans, then fastidiously polished to achieve a brilliant patina, our marble surrounds will provide your home with a visual presence that captivates. You can choose from a range of surround styles, all of which exhibit an elegance that's ideal for a striking centerpiece.
A Complimentary Consultation
We offer a free design consultation to help you choose the marble surround that's right for your interior design aesthetic. Once you've made your selection, our experienced, factory-trained technicians will provide an installation that adheres to our high workmanship standards. If you have any questions about your surround during the installation, these courteous professionals will be happy to answer them.
When you're ready for a marble fireplace that can transform bland living spaces into elegantly appointed rooms, contact 31-W Insulation and let us schedule a consultation at your home in White House.