A Marble Fireplace Can Add a Touch of Elegance to Your Louisville, KY, Home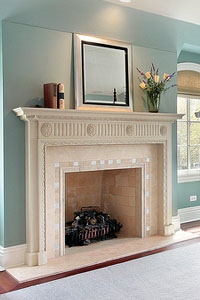 Imagine – a stately marble fireplace, crackling logs, a soft, warm glow. 31-W Insulation can help you create this cozy scene for your Louisville home. As the premier provider of home improvement products and services in the Southeast, we install impeccably designed marble fireplace surrounds. Crafted according to old-world specifications and supplied by the renowned marble company ICM Marble and Granite, these surrounds can enhance your household's comfort immeasurably.
Exquisite Styles
When you turn to us for a marble fireplace, we will schedule a free, at-home consultation to discuss your needs and budget and help you determine which one of our gorgeous surrounds will best suit your home's aesthetic. Our marble surrounds are available in a range of distinctive styles that:
Are made from marble that has been excavated from select quarries around the world
Are cut and polished with painstaking care for stunning beauty that will heighten the visual appeal of your home's interior
Can add appreciable value to your home
To ensure that your new marble fireplace becomes the focal point you envisioned for your home, only our experienced and factory-trained technicians – not subcontractors – will perform the installation. They will keep their work area tidy and clean up thoroughly when the project is completed, leaving you with a new marble fireplace that will function exactly as designed.
For more information about how we can provide you with a lovely new fireplace for your Louisville home, contact 31-W Insulation today to schedule a consultation.