Professional Marble Fireplace Installation Available in Goodlettsville, TN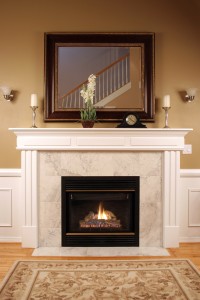 For homeowners who want a distinctive centerpiece in their homes, a marble fireplace is an excellent choice. But in Goodlettsville and surrounding areas, finding a good provider of a higher-end product like this can be challenging. After all, a fireplace is an investment, so you don't want to settle for just anything. You want a range of choices. Fortunately, you have 31-W Insulation to turn to. Since 1972, we have been providing customers with premium products and services that enhance the beauty and functionality of their homes, and we offer a selection of gorgeous, hand-cut marble fireplaces designed to command attention.
Functional Beauty
The natural heat- and fire-resistance of marble make it a perfect material for a fireplace. Because marble also has innate color variations, it offers an aesthetic that can blend with virtually any décor. The marble fireplaces 31-W offers have been burnished to a high gloss that's easy to maintain. A simple wipe down with a damp cloth will do. Additionally, our fireplaces are:
Made from marble that has been excavated from select quarries around the world
Crafted by artisans who adhere to old-world masonry standards
Available in an array of exquisite styles that will elevate your home's visual appeal
A home improvement that adds value to homes
Our factory-trained technicians will provide meticulous installation to ensure that you obtain all the functional and aesthetic benefits of your new marble fireplace. You can be confident in the quality of our work because we rely on experienced company employees only, never subcontractors.
For more information about our marble fireplaces and our expert installation service, contact 31-W Insulation today to schedule a free consultation.