Professional Insulation Replacement for Homeowners in Oklahoma City, OK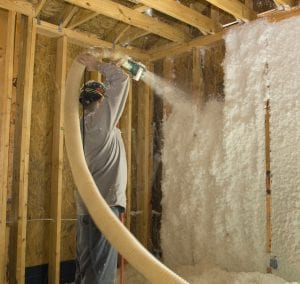 It's not uncommon for homeowners dealing with rising energy bills to have difficulty keeping their home at a comfortable temperature. They may also find that their HVAC unit runs constantly. If you've experienced these problems at your Oklahoma City home and you've learned there is nothing wrong with your HVAC system, you should turn to the professionals at 31-W Insulation. Poor insulation is more than likely the cause of your problems. At 31-W, we are insulation replacement experts who have been a leading provider of insulation products and services since our founding in 1972.
Why Our Service is Superior
We offer insulation from top manufacturers, including Owens Corning®, CertainTeed, and Johns Manville. Whether you need batt, rolled, or blow-in foam insulation, you can trust that your insulation replacement will be performed to the highest industry standards as all of our installers are experienced, factory-trained professionals. What's more, we can guarantee the quality of their work because all of them are trusted company employees; we never rely on day laborers or jacks-of-all-trades.
You can fully expect the insulation we install to reduce the heat transfer into and out of your home, which can lead to:
A more comfortable home due to more stable indoor temperatures
A lower energy bill since your HVAC unit won't have to work as hard to maintain a comfortable interior
A longer-lasting HVAC unit as a result of its reduced workload
Let Us Schedule a Consultation
To start the process of replacing your insulation, we offer a free consultation. One of our knowledgeable representatives will visit you at your Oklahoma City home to walk you through your options and answer any questions you may have. To schedule a consultation or to learn more about the benefits of insulation replacement, contact 31-W Insulation today.