Gorgeous Glass Shower Doors Installed for Greensboro, NC, Residents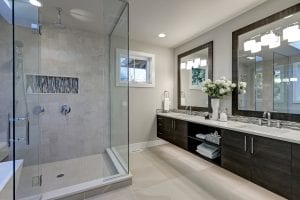 Having glass shower doors installed is an ideal way to change the look of your bathroom without the stress and expense of a complete renovation. In Greensboro, 31-W Insulation offers and installs stunning doors from Quality Enclosures, one of the industry's most respected manufacturers. Whether your bathroom's aesthetic is modern or classic, these doors come in an array of designs and options that will add sparkle to your shower space.
Why 31-W Insulation?
Homeowners choose us for replacement shower doors because we are knowledgeable and attentive home improvement experts. We will guide you through every step of the process, beginning with the initial consultation. We will help you select and design a door that meets your budget and reflects your style preferences beautifully. Because our installers are trusted, factory-trained employees and not subcontractors, your installation will accord with the renowned 31-W standards of workmanship and customer service. It's for these reasons and many more that we have consistently earned an A+ rating from the Better Business Bureau.
Designed for You
To expand your design flexibility and to accommodate a range of shower shapes and sizes, we can install glass shower doors in different configurations. Here are the three eye-catching styles we offer:
Framed, featuring a premium-grade aluminum frame for exceptional durability
Frameless, with minimal framing that highlights the handsome glass structure
Semi-frameless, for a timeless style that complements a variety of bathroom designs
You will also have customization options in plated finishes, powder coated finishes, panels, headers, and buttresses, so that you can design an enclosure that's uniquely yours.
If you would like to learn more about the glass shower doors that we offer to Greensboro residents, contact 31-W Insulation today.