Bath Accessories for Homes in Alabama, Tennessee, Oklahoma, Georgia, Ohio & Throughout the South & Midwest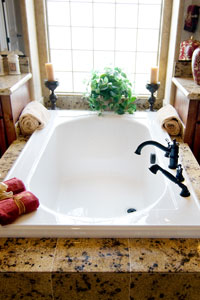 Your bath accessories can reveal a lot about your personality. Are you playful and relaxed or modest and laidback? Do you prefer to stand out or do you try to blend into your surroundings? If your bathroom décor isn't a true reflection of your unique style, it's time to add some personal flair. With bath accessories from 31-W Insulation, you can update your bathroom's aesthetic without embarking on a full bathroom remodel.
We offer various types of bath accessories, including:
Paper holders
Towel rings
Robe hooks
Grab bars
Curved shower rods
Bath hardware, including sink, tub, and shower faucets
And more
No matter which types of accessories you require, you'll have the freedom to choose from various materials, finishes, colors, and more. Whether you prefer a sleek, modern aesthetic or have a traditional taste in décor, we're sure to offer bath accessories that will perfectly reflect your unique personality.
Our friendly and highly experienced team can help you update many other areas of your home, too. Whether you've always dreamed of having a custom marble fireplace, or want to give your home's exterior a facelift with simulated stone siding, we can help transform your house into a home using only the finest building materials available.
Contact us to learn more about the services we provide in Alabama, Tennessee, Oklahoma, Georgia, Ohio, and surrounding states in the South and Midwest.